---
HamMultiPlayer windows :

By default, program opens and use many windows :

- One window for each preview.
- One window for Big Display, TreeView and ListView.

So you need a powerfull machine (with a good video card) to be able to use HamMultiPlayer in good conditions !


HamMultiPlayer has intensive MouseWheel usage.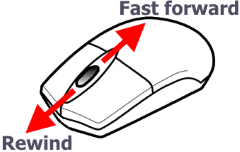 You can use your mouse wheel over many controls :

- Previews (top of screen) will move video position in both directions. Displacement over previews changes video position of 3%
- Displacement over progress (under preview, where filename is displayed) changes video position of 2%
- Big Display changes video position of 1%
- Speed progress changes speed of 1%.
- Over ListView, scrolls files list.
- Over TreeView, scrolls directory list.
- Over volume(s) changes volume


Note : Using mousewheel away than Previews, ListView, TreeView, Speed, Big Display and Volumes

makes moving all preview movies

!

Just try !